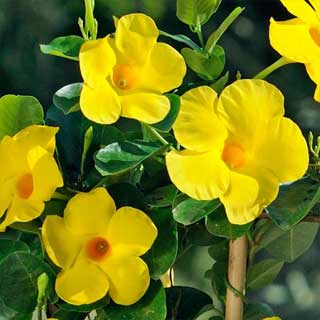 During the months of March and June 2014, CQPlants will have a complete and updated range of Dipladenia Diamantina Citrine with heights that vary from 35 to 180 centimetres.
Their appearance is one of the biggest appeals of this collection, forming trellis and columns with ramified and compact plants.
'Citrine' is the first yellow Dipladenia that was awarded with the price for the "Best Variety Obtaining" by the jury of the International Fair IPM Essen, for being the only and genuine yellow Mandevilla at the present.
This variety is really premature among its group. It is a semi-climbing plant that branches easily and whose yellow flowers have an excellent resistance to the sun.
The Dipladenia Diamantina Citrine belongs to the market segment of "compact climbing plants" and it is ideal for terraces and courtyards.